Introduction
Vatarakta has been described by Acharya Sushrut inVata Vyadi Nidan. In this Rakta Dhatu gets vitiated, which obstructs the passage of Vayu resulting severe aggravation of vayu and further vitiates the blood. Due to vitiation of vata and rakta it is known as Vatarakta. Positioned in foot, ankle and sometimes in palms, it spreads all over the body like aggravated rat's poison. The disease is incurable if skin is peeled off up to knee and is cracked and discharging along with complications such as wasting of vitality, musculature etc. The attack is acute, it starts in the night, joint surrounding tissues are swollen, hot, red, shiny and extremely painful .Vitiated blood should be let out by application of leeches etc. As Acharya Sushruta said Jalauka vacharan covers half of the treatment. In this disease vitiated blood should be let out from the patients repeatedly in small quantities.
Aims and objectives
To study the effect of Jalaukavacharana in the management of Vatarakta with special reference to Raynaud's disease.
Case report
The present case study is successful Ayurvedic management of case of vatarakta.
38 yr/ F patient came with
C/o
Hastangulishul
Hastangulishoth
Tvakvaivarnya,
Daha
Kriyakashtataof Middle,Ring and little finger of Left hand since 20 days
Medical h/o - N/H/O - DM/HTN/TB
Surgical h/o – none
Menstrual h/o - 3-4 / 28-30 days, regular, painless
O/H – G2P2L2A0D0, normal labour
History of Present Illness
The patient has history of fall at home 20 days back. Since then patient have been suffering from severe Hastangulishul,Hastangulishoth,Tvakvaivarnya,Daha,kriyakashtata of Middle,Ring and little finger of Left hand since 20 days. She couldn't even sleep because of pain. She has pre gangrenous stage at that time. For this patient took Allopathic treatment but didn't get relief, then she came to our hospital – Ayurvedsevasangh, aroghyashala Rugnalaya in Panchakama department OPD.
Personal History
Occupation: House wife
Dietary Habits: Eating spicy food, fast food-2-3 times a week
Sprouts: twice week
Tea: 3-4 times a day
Ashtavidha parikshana
Nadi (pulse) - 80 /min Mala (stool) – Samyak
Mutra (urine) –Prakrut Jivha (tongue) –Sama
Bala–Madhyam Raktadaba - 120/80 mm hg
Kshudha – Prakrut Shabda (speech) –Prakrut
Druka (eyes) – Pallor Nakha (nails) – Pallor
Akruti –Madhyama Twak –Rukshta
Investigations:
a)Blood investigation
E.S.R-96mm/hr
Sr.uric acid -6.9 mg /dl
C-reactive protein test-Positive
R.A test- Positive
b) Left upper limb arterial Doppler study-The digital arteries show marked diminished color flow and velocities
Materials and Methods
Method
a) Centre of study: Ayurvedsevasangha, Aroghyashala Rugnalaya, Nashik.
b) A single case study.
Panchakarma- Jalaukavacharan
Materials required for jalualka application
1. Jalauka 2-3 in number.
2. Gauz pieces, cotton and cotton pads.
3. Haridra powder (Curcuma longa).
4. Rock salt.
5. Shatdhoutghrita.
6. Kidney trays.
7. Disposable Needle.
9. Gloves.
10. Table.
1) Amrutaguggul 2 bd with warm water.
2) Mahamanjishthadi kadha 20 ml bd.
3)Kokilakshakashaya 20 ml bd
Method of the leech application - The Jalaukas are taken out from the aquarium and are placed in the tray with a mixture of water and Haridra Churna for few minutes. After that they are shifted to another tray containing clean water and now these active Jalaukas are ready for application.
Mechanism of Action
As the main pathology in Vatarakta is Srotodusti due to vitiated Rakta and Vata therefore by applying Jalauka we remove the Srotorodha as it is well versed that leeches first suck the vitiated blood resulting pacification of vata. Once vatadosha is in balance and vitiation is removed, pain and other signs, symptoms will automatically reduce as the saying 'there is no pain without exaggeration of vata'.
Follow up:
No recurrence and any type of complications were found in the patients during follow up period.
Results:
The patients got completely relieved after 5 sitting of Jalaukavachran.
Before treatment: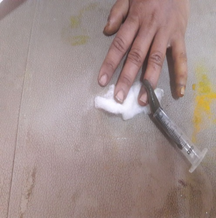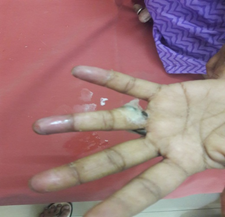 After treatment: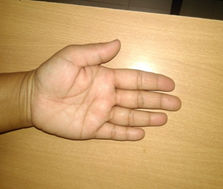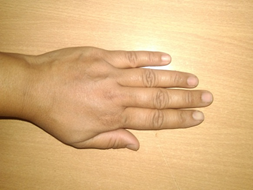 Nidanpanchak
Hetu - Aghat,vidahiahar ,jagran --> Roop - Hastangulishul ,Hastangulishoth,Tvakvaivarnya,Daha kriyakashtata ---> Samprapti–Hetusevan (Aghat, Atividahiaahar ,jagran) --> Vataprakop and raktadushti --> Sthanvaigunya at hastanguli --> Shulshothtvakvaivarnyadaha --> Vatarakta
Discussion
Jalaukavacharan is the only therapy which instantly reduces raktadushti and soothens the provoked vatadosha .Its saliva has anti-inflammatory, analgesic action.It also improves the blood circulation of the fingers. This way it is effective in this case of Vatarakta.
Conclusion
Jalaukavacharan can be an ideal therapy for Uttanavastha of Vatarakta, as it helps not only in reducing pain but also reducing swelling and discoloration without any side effects.
* M D Scholar
** HOD of Panchakarma Department
REFERENCES
1. CharakSamhita- Chakrapanidattatika edited by Vd. J.T. Acharya,
ChaukhambaSanskritSansthan (2001).
2.Sushsutasamhita –ayurvedtatvasandipikaeditied by vd.ambikadattashashtriChaukhambaSanskritSansthan(2012)
3 Sarth Vagbhat –edited by vd.GaneshKrushnaGardeChaukhambasurbharatiPrakashan (2012)
4. AyurvediyaPanchakarmaVidnyan: ByVaidyaH.S.Kasture, published by ShriBaidyanathAyurvedBhavanLtd. 3rd edition.
5.A concise book of surgery by S. Das 1st edition 1994
Download Article